Jose: Binaraga Lampung Siap Tempur di Pra PON Bengkulu Juli 2023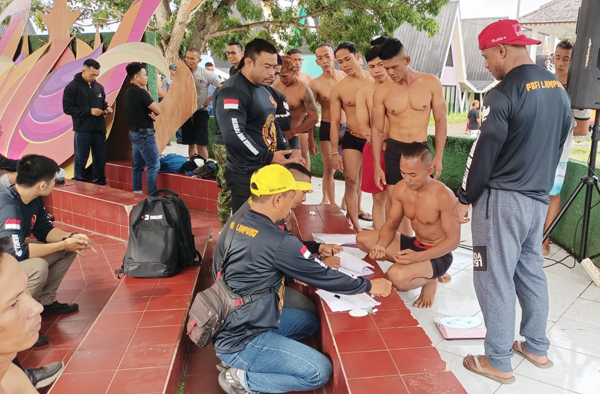 DL/Bandarlampung/Sport/27032023

----- Ketua Pengprov Persatuan Binaraga dan Fitnes Indonesia (PBFI) Lampung, Jose Sarmento Pidade menegaskan bahwa pihaknya sudah berkonsolidasi dengan para atlet untuk mempersiapkan diri menghadapi prakualifikasi Pekan Olahraga Nasional (Pra PON).
Untuk sementara kabar diterima dari Pengurus Besar (PB) PBFI, bahwa Pra PON akan dihelat di Provinsi Bengkulu pada akhir Juli 2023.
"Pak ketua PB menginformasikan bahwa kemungkinan akhir Juli akan pra PON di Bengkulu. Jadi waktunya tinggal sedikit dan kami harus memacu seluruh atlet yang dipersiapkan untuk turun di pra PON itu," ujar Jose kepada media ini, Senin 27 Maret 2023.
Jose menambahkan bahwa persyaratan dari PB PBFI sudah dimiliki Lampung, yakni ketersediaan pelatih yang bersertifikat dari PB. "Kami sudah memiliki personilnya, sehingga kami bisa mengikuti Pra PON dan do'akan kami akan membuat sejarah bisa lolos PON dari Lampung," tambahnya.
Dari surat edaran PB PBFI kelas yang akan dipertandingkan di Pra PON untuk atlet putra adalah Binaraga 8 katagori yakni 55 Kg, 65 Kg, 70 Kg, 80 Kg, 85 Kg, 85+ Kg.
Men's Sports Physique 2 katagori yakni Up to 170 cm (tinggi – 100, max -2 Kg) dan Over to 170 cm (tinggi – 100, max +2 Kg).
Men's athletic Physique 1 katagori Up to 175 cm (tinggi – 100, max +6 Kg) Dan untuk atlet putri dipertandingkan semua kategori (Over All).
Beberapa atlet yang disiapkan memang masih dalam tahapan latihan mandiri dan segera di training center jika sudah mendekati waktu keberangkatan.
"Binaraga kan olahraga yang sangat berbeda dengan cabang olahraga pada umumnya. Maka dalam persiapannya pun pasti banyak perbedaan, Kami mengolah raga atlet, jadi perlu banyak suplemen dan nutrisi. Namun kami sangat menghindari doping," kata Jose.
Sebagai ancer-ancer, kemungkinan Lampung akan mengirim tidak lebih dari 4 atlet di Pra PON, karena memang harus memiliki strategi, kelas mana yang kemungkinan bisa diambil dan mana yang persaingannya berat.
"Kita masih melihat situasi. Yang jelas sebagai persayaratan intern kami sudah memiliki dan bisa ikut pra PON. Itu yang penting." Katanya. (tim)