Peran Atal Nahkodai CAJ Sangat Ditunggu, Tahun 2023 Indonesia Pegang Posisi Penting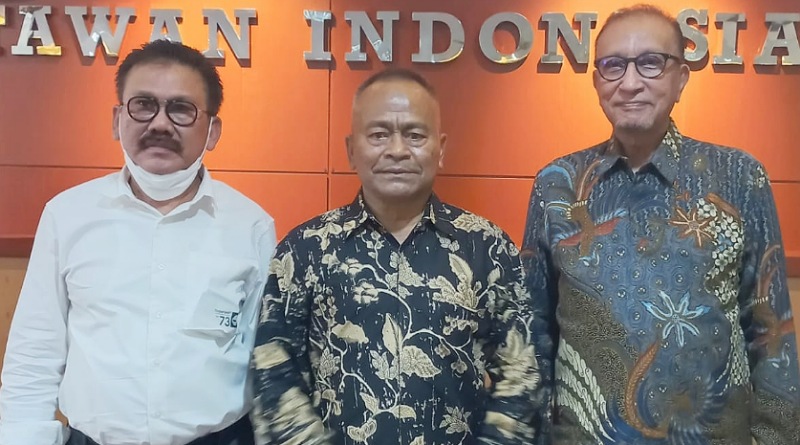 DL/10102022/JAKARTA
---- Peran Atal Sembiring Depari, akan sangat penting dalam menahkodai Confederation of ASEAN Journalists (CAJ) atau Konfederasi Wartawan ASEAN, terutama memasuki 2023 dimana Indonesia kembali akan memegang posisi penting dalam forum internasional sebagai ketua ASEAN dalam G20.
Presiden Joko Widodo karena pada tahun 2023, Indonesia kembali akan memegang posisi penting dalam forum internasional sebagai ketua ASEAN, setelah sebelumnya Indonesia pernah menjadi ketua pada tahun 1976, 2003, dan 2011.
Selama masa Indonesia menjadi Ketua ASEAN pada tahun 2023, diperkirakan lebih dari 300 pertemuan akan terselenggara di Indonesia, baik dari Pilar Politik dan Keamanan, Pilar Ekonomi, maupun Pilar Sosial-Budaya. Pelaksanaan pertemuan-pertemuan tersebut diprioritaskan untuk dilakukan secara fisik mengingat perkembangan situasi pandemi COVID-19 semakin membaik.
Selama beberapa dekade terakhir, dinamika di kawasan Asia Tenggara tengah mengalami transformasi. Banyak isu-isu di kawasan yang hingga saat ini belum terselesaikan.
Peran wartawan dalam penyampaian pesan kepada masyarakat ASEAN pun menjadi salah satu hal penting, terlebih Indonesia akan menjadi President Confederation of ASEAN Journalist (CAJ) periode 2022 - 2024 yang dalam hal ini akan dijabat oleh Atal S Depari selaku Ketua Umum Persatuan Wartawan Indonesia (PWI).
Indonesia secara resmi akan menerima jabatan tersebut dari Thailand dalam Sidang Umum Konfederasi Wartawan ASEAN atau General Assembly Confederation of ASEAN Journalist yang akan berlangsung di Bali dari 12-14 Oktober mendatang. Posisi Indonesia sendiri sebelumnya adalah Vice President CAJ.
"Dalam aturan CAJ, setelah dua tahun Thailand menjabat sebagai President CAJ maka Vice President CAJ yang saat ini dijabat oleh Indonesia otomatis menjadi President CAJ," jelas Ketua Umum PWI Pusat, Atal S Depari ketika baru mendarat di Bali, Senin 10 Oktober 2022.
Ditambahkannya, Kamboja akan menjadi President CAJ berikutnya untuk menggantikan Indonesia karena posisi Vice President CAJ periode 2022 - 2024 dijabat oleh Kamboja.
Confederation of ASEAN Journalists (CAJ) atau Konfederasi Wartawan ASEAN didirikan di Jakarta tanggal 11 Maret 1975 oleh para utusan dari organisasi wartawan nasional negara-negara anggota ASEAN (Association of South East Asian Nations atau Perhimpunan Negara-negara Asia Tenggara).
"Untuk itu, melalui kiprah para wartawan serta medianya di wilayah ini perlu dijalin kerjasama, konsultasi serta diwujudkan saling pengertian dan saling memahami antara warga atau masyarakat Asia Tenggara," kata Ketua Umum PWI Pusat, Atal S Depari.
Dijelaskannya, pada awalnya pendiri CAJ hanya terdiri atas PWI (Indonesia), NUJM (Malaysia), NPC (Filipina), SNUJ (Singapura) dan CTJ (Thailand), namun kemudian menyusul VJA (Vietnam) dan LJA (Laos) pada bulan Maret 1996. Dan seiring berjalannya waktu, organisasi wartawan Myanmar dan Kamboja turut bergabung dalam wadah ini.
"Dengan diselenggarakannya kegiatan General Assembly CAJ di Bali ini diharapkan dapat ikut mendukung Presiden Joko Widodo sebagai Ketua ASEAN sehingga dapat melakukan desiminasi pemberitaan di kawasan anggota negara ASEAN dan memajukan kehidupan jurnalisme serta meningkatkan kehidupan pers yang bebas dan bertanggung jawab," harap Atal S Depari didampingi Sekjen PWI Pusat, Mirza Zulhadi.
Disamping itu, tambah Atal, melalui CAJ kita dapat mempererat hubungan internal para wartawan ASEAN dan antara wartawan ASEAN dengan organisasi wartawan di seluruh dunia.
"Meningkatkan saling pengertian dan kerjasama antarwarga ASEAN demi terwujudnya kesejahteraan, keadilan sosial dan perdamaian serta memperjuangkan aspirasi dan kepentingan warga ASEAN sehingga terjalin saling pengertian dan penghargaan yang lebih baik oleh masyarakat dunia," ujar Ketua PWI Pusat. (ril)